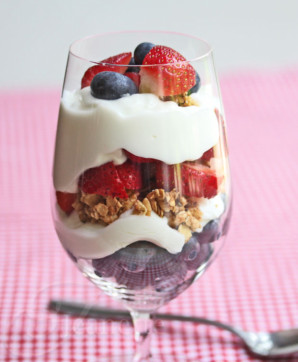 Breakfast Parfait
Ingredients:
¾ cup of sliced strawberries
¾ cup of blueberries
1 container of vanilla yogurt.
1 tablespoon of wheat germ
½ banana sliced
1/3 cup of granola
Directions:
Layer 1/4 cup strawberries, 1/4 cup blueberries, 1/3 container yogurt, 1/3 tablespoon wheat germ, 1/3 of the sliced banana, and about 2 tablespoons of granola in a large bowl. Continue to build the parfait, repeating the layers until all of the ingredients are used completely.

Chiropratique Optimum | (514) 766-4156