Cauliflower Soup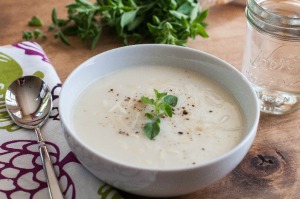 Ingredients:
½ Tbsp. olive oil
1 onion, diced
1 head cauliflower, diced
32 ounces chicken broth
1 tsp. salt and pepper
Directions:
In a dutch oven pot (or heavy pot), heat olive oil over medium heat. Add onion, cook until softened, about 5 minutes.
Add cut up cauliflower and chicken broth. Bring to a boil then cover and simmer for 15-20 minutes until cauliflower is softened.
Carefully pour entire contents of pot into blender. Add salt and pepper to taste.
Carefully blend until smooth.

Chiropratique Optimum | (514) 766-4156