Paleo Turkey Lettuce Wraps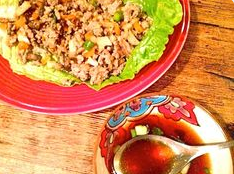 SPRINGTIME calls for quick, delicious, healthy wraps! Include these on your menu this week!
Ingredients:
stir-fry sauce:
3 minced garlic cloves
thumb-sized piece of fresh ginger, peeled & minced
1/3 cup olive or melted coconut oil
1/4 cup rice vinegar
1/4 cup of soy sauce
2 tbs. raw honey
1 tsp. sesame oil
ground black pepper, to taste
wraps:
2 lbs. ground turkey
1 red bell pepper
large handful finely chopped mushroom
2 carrots, grated
1/3 cup raw cashews, chopped
3 minced green onions
romaine lettuce leaves
minced cilantro, for garnish
dipping sauce:
2 tsp. palm sugar
1/2 cup water
3 tbs. soy sauce
1 tbs. rice vinegar
2 tbs. chopped green onion
1/4 tsp. dried mustard or hot mustard paste
chili garlic sauce, to taste (optional)
In a small bowl combine the minced ginger, garlic, rice vinegar, soy sauce, honey, sesame oil and red pepper flakes. Whisk well, until all ingredients are combined.
Drizzle a little olive oil in a large pan and heat up over medium. Once hot add in the ground turkey and cook until done. Add in the carrot, cashews and green onion, cook for 5-8 minutes. Pour in the sauce and stir to combine.
Allow to begin to bubble, then reduce the heat to medium-low and simmer for 10-15 minutes.
While the meat mixture is cooking, combine the ingredients for the dipping sauce and set aside.
To serve, spoon filling into romaine leaves, topping with a drizzle of dipping sauce and some minced cilantro, if desired.

Chiropratique Optimum | (514) 766-4156